It seems amazing now, but back in 1999 I had an editor who suggested the I might like to have a Mediterranean hero - for a change! Back then it didn't seem like every single hero you read in a Modern Romance/ Presents novel was a sheikh, Italian, Spaniard, Greek . . . My heroes had been Englishmen, or Irish. But the Mediterranean hero was really becoming popular and more and more of them were appearing in the novels.
Just after my editor made this suggestion I was in a small hotel in a West Yorkshire town. The Babe Magnet and I were having breakfast in a tiny dinind room - it was in the basement I remember! Suddenly a couple of men appeared in the doorway, making me look up - as a writer, I'm always
curious
- nosey! These two guys were both striking but the younger one was absolutely gorgeous. I later found out that he was Spanish and his name was Javier something. My husband had to work that day and I was happily settled in a coffee shop with a notebook and pen - and inspiration for a whole new idea.
Along the way, Javier the Spaniard changed nationality and became Constantine the Greek - and so my very first ever Greek hero - or Mediterranean hero - was born. The book was
Constantine's Revenge.
I've never know quite what it is abot Constantine but he seemed to grab the imagaination of my readers and never let go. I have had more letters, emails about this one hero than any other. The book has been frequently reprinted, some years ago when I ran a poll of my readers' top ten favourite Kate Walker novels, Constantine's Revenge topped the voting right from the start - and stayed there.
Perhaps it has something to do with the cover art - one of the best covers I've ever had. I loved it so much that I used the cover on my business cards for a time. Whatever it is, I'm always grateful for the fact that one unknown man walked into a room over twelve years ago!
And I was thrilled to discover this week that as part of their programme of reissuing my backlist in ebook form, Harlequin have reissued
Constantine's Revenge
as a brand-new ebook out this month.
His plan was to make her his mistress...
When Constantine Kiriazis reappeared after two years, Grace thought he'd finally forgiven her for her lack of trust in him - and for canceling their wedding. Certainly Constantine's desire for her had not waned. But neither had his desire for revenge...
He fully intended to seduce Grace, but vowed she'd only be his mistress - never his wife. It was only when she melted in his arms that Constantine began to wonder who was exacting the revenge and who was paying the price!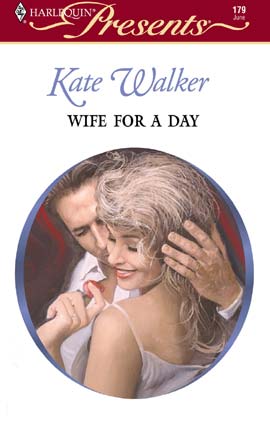 Another backlist book is also coming out in ebook form in June this one has an Irish hero - not that that gets mentioned much! Ronan Guerin appears in
Wife For A Day
- and this is a book that I always remember with a blend of horror and relief. I had such a struggle to get this one accepted! But since it came out I've had a lot or response from readers and again it often appears in Top Ten Favourite Kate Walker booklists. So I'm glad to see that
Wife For Day
reissued
as well.
What about you? Do you have a favourite of my books? And in heroes - do you prefer the Mediterranean hero? Or would you like more Englishmen, Irishmen . . ?