It's May - a brand new month, and Spring is definitely bursting out all over, The sun is shining (well, it is here) the fresh green leaves are on the trees, and there are flowers coming to life in the garden.

Spring is a time for revival and this May I have 'revivals' for a couple of older titles of mine that are being reissued innew collections or new formats this month.
First here in the UK there is the
One Night in Madrid
collection with three sizzling Spanish stories one by me, by Jennie Lucas and by Chantelle Shaw.
My novel is
Spanish Billionaire, Innocent Wife
which was originally published in 2008
Two years ago, Alannah left Raul without one word of regret. Now chance has thrown them together once more, and the proud Spanish aristocrat will see that Alannah pays for her mistake.
He had wanted Alannah Redfern the first moment he saw her. Her unique combination of purity and passion intrigued, then intoxicated him. And Raul Marcín was a man used to getting everything he wanted.
Now, Raul knows that Alannah is no longer a naive girl. Until their one night of passion proves that she is still an innocent. Raul will do whatever it takes to keep her at his mercy.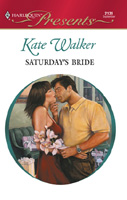 Then over on eHarlequin.com, an even older book
-
Saturday's Bride
is rereleased in ebook format. This is a bok that I remember writing very well. I always say that I almost had to write it backwards - I needed to get the ending right first and then make sure that every other scene fitted with that ending! Want to know why? You'll have to read the book.
And for all of you who sometimes wish we had somne 'homegrown' heroes rather than the Mediterranean men or sheikhs who are so popular now - here's one of my very sexy Englishmen!

Connor Harding was outraged to come back home and discover that Jenna Kenyon was getting married—to the wrong man! But he knew Jenna was determined to prove him wrong, despite the passion still smoldering between them.
Connor decided that all was fair in love and war. Only five days remained before Jenna became Saturday's bride, but it was more than long enough for him to persuade her to change her mind.
And of course,
The Proud Wife
is still available in Presents Extra. Thank you so much to everyone who has already bought it and given it two weeks on the Booktrack bestseller list!