It's April so that means that my American Presents Extra edition of
The Proud Wife
will soon be in the shops. The official publication date is - er well, when is it in the shops? Amazon has April 5th but I think the official date is April 12th.
But the again many bookshops put them out early anyway. So keep your eyes open - look for this cover and you'll find it!
The Proud Wife
is also out in Australia in the M&B Sexy line and I really love that full-length version of the cover.
I said that I would share the Romantic Times review with it as soon as I'd found it. Well, thanks to the lovely Abby Green, I've now got my hands on a copy of that review - Thanks Abby!
THE PROUD WIFE (4.5) by Kate Walker:
Pietro D'Inzeo summons his estranged wife Marina to Sicily to discuss their divorce. Marina, not happy about returning to the place where her dreams for a happy future were shattered, arms herself with a plan to refuse to accept a single penny from her arrogan
t soon-to-be ex. But she's caught off guard when Pietro demands an immediate renegotiation … starting with a kiss. This is an emotionally charged page-turner with plenty of tension and passion.
Oh and while I'm talking about reviews - here's a great one from Joanna of the
Romance Angels Network
. Thank you so much for this Joanna - it's a fabulous review becaiuse it's so understanding of what I was trying to do in the book
The fire burning beneath the ashes.
When Pietro officially 'summons' Marina back to Sicily with the excuse of discussing the terms of their divorce, she attends, only to have the satisfaction to tell him she wants nothing from him, but to send their short marriage into oblivion. None of them imagine the attraction that brought them together is still there. And the passion is burning hotter than ever. Unexpectedly, they are facing each other and their painful past.
A past where everything happened so fast and it was so painful that they didn't have time to develop a relationship. The Proud Wife by Kate Walker is about finding closure for the painful experiences shared and connecting as a real couple.
My favorite part is when they finally talk about the death of their baby. The biggest misunderstanding in their relationship. Marina breaks down, Pietro gives her the sympathy and soothing he couldn't before, and somehow they find closure. However, Pietro and Marina still have too many pending issues. Pietro's idea of intimacy is making love. He thinks he is doing what she wants, but Marina needs much more. He has been emotionally unavailable in the past. While Marina was feeling used as a breeder to produce an heir, never truly loved and inadequate as a princess.
The Proud Wife is one of the books that I'd read where the characters' emotions convey to the page the best. Kate Walker did a great job channeling their adversities, the emotional portion of the story is deeply touching, there were moments I was teary-eyed.
And in extra good news, there's another couple of my books that are being republished and brought out as ebooks - these were published on April 1st so they are available now from the
eHarlequin site
and they are:

Driving home for Christmas, Leah's car landed in a snow-filled ditch—and she was rescued by Sean Gallagher, who took her to his home to recover.
Leah couldn't believe it! Sean was convinced that Leah had got engaged to his brother, then run away. It was as if he hated her...and desired her. As the burning need between them grew more intense, Leah fought to resist: Sean seemed determined to prove she was a wanton...by seducing her into his bed...
And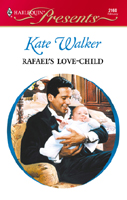 Rafael's Love-Child
Originally published February 2001
When Serena wakes up in hospital with amnesia, her only visitors are Rafael Cordoba and his baby son, Tonio. Following docotr's orders. Rafeal tells her nothing except that she had an accident in his car - but that he doesn't know her.
Rafael insists Serena recuperates at his home and, already having strong feelings for the sexy Spaniard, and adoring his son, she accepts. But what is Rafael not telling her - and where is his baby's mother?
His baby - he's sexy, he's successful . . . And he's facing up to fatherhood.
It's great to see these older books coming back with a new lease of life as ebooks.