A couple of things to catch up on
1. I've updated my web site with the help of the lovely ladies from
HR Web Concepts
and so all the details of the new books are up there ( the latest and the new title coming in October are also in the sidebar there -> )
2. There is a new Newsletter too with some photos of - guess who - Sid - and a couple of views of Caerleon where I taught in the summer. They remind me of just how hot it was that week. Looking at the rain thundering down outside, it doesn't seem possible that there ever was the faintest suspicion of a drought!
3. There is also a new contest to win signed books and special writing material – inspired by the thought of how everywhere there are signs about going Back to School
4. And of course there's a little mention of the Reviewers' Choice Award for
The Italian's Forced Bride
.
5. And the mention of Caerleon reminds me that if anyone is interested in a weekend in wonderful Wales, staying in a comfortable hotel, and learning how to write Romance then on the events page there are details of a way you can do just that. The organisers of
Caerleon Writers' Holidays
are now running residential weekends in Fishguard, Pembrokeshire. The first of these is in
November - Friday 10th - Sunday 12th
– and all the details you need can be found on the Events page of my web site.
Other bits and pieces of good news – I just learned that my August USA release –
The Antonakos Marriage
- is now on its fourth week on the Bookscan Top 100 listing for bestselling fiction. So thank you to everyone who has bought a copy to help me achieve this fabulous result – I really couldn't have done it without you.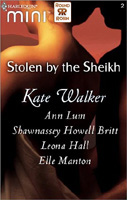 More good news – Harlequin have recently moved into publishing their novels as ebooks and
The Antonakos Marriage
is currently in the Top 10 bestsellers of these books. There is also a brand new venture called
Harlequin Minis
where on line stories Writing Round Robins from the eharlequin site are being published as mini ebooks for just $.99. This week I was thrilled to discover that the Writing Round Robin I ran last year has been chosen to be one of the 15 launch titles for this new project .It's really great timing too as this story is a sort of prequel to my October title
At The Sheikh's Command.